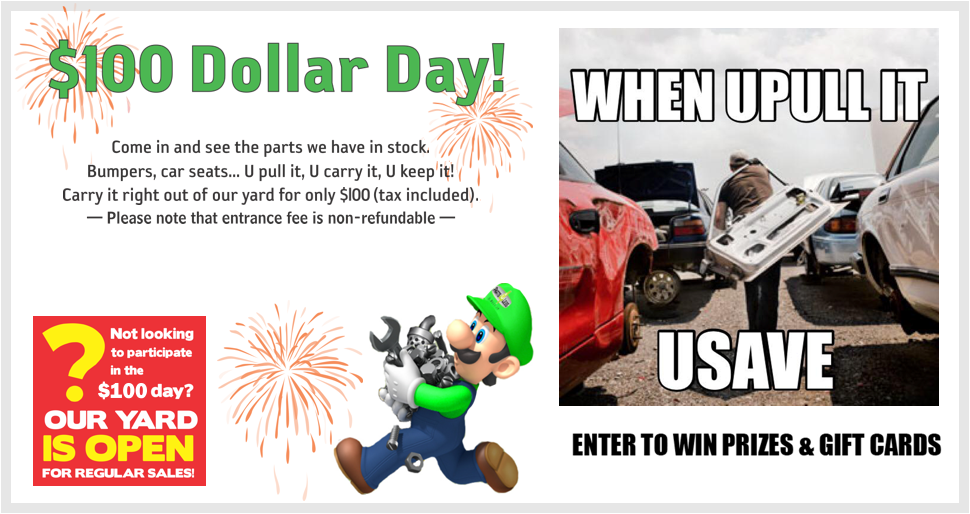 Next Date - Saturday June 9 2018
Finished for 2017 - See You in 2018
$100 Dollar Days!


All you can carry for just $100.00!
2018 Dates:

Saturday June 9 & Sunday September 9

NEXT DATE:

Saturday June 9, 2018


Finished for 2017 - See You in 2018

RULES
No dragging parts.


No back packs, duffle bags, or carrying devices.


Remove all the parts you can carry in your hands.


Maximum of FOUR of the same parts allowed per trip.


NO loading Parts on hoods or working together with someone to carry out.


It is what YOU can carry.


If team work is required for some individuals there will be additional fees.


Each carry out will be inspected by a Parts 4 Less staff member.


ENGINE AND TRANSMISSIONS

For anyone participating in the $100 Dollar Day there will be no core charges on these Items or any other for that day only.
For regular sales on $100 Day core charges will be applied.



Individual shopping is permitted on $100 dollar days as well.


Please insure that you have the correct parts you need.

Once your band has been cut, you will not be allowed to exchange.



Here at Parts 4 Less we want to insure that you have the best experience.


You are more than welcome to come and roam the yard first to insure that participating in the $100 day is right for you.


In-store credits cannot be applied toward your $100 day entrance fee.


Other restrictions may apply.


Any other questions please speak to our sales staff.


All $100 Day Parts are sold as is.
NO WARRANTY OR EXCHANGE — ALL SALES FINAL
.