Parts 4 Less U Pull Yard Map
At Parts4Less we don't want you wasting your time searching for the parts you need!
All of our vehicles are grouped by manufacturer with clearly marked signs.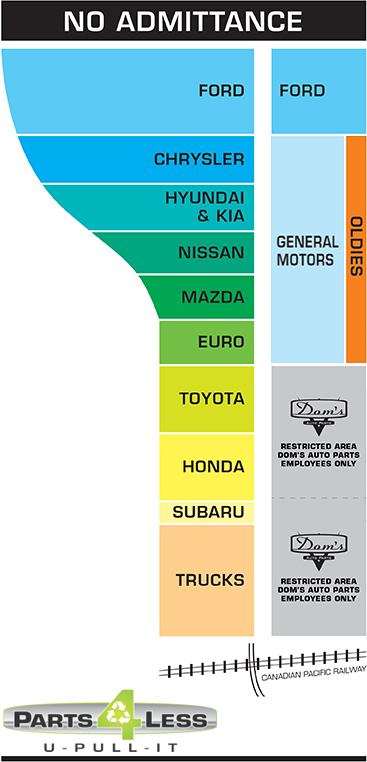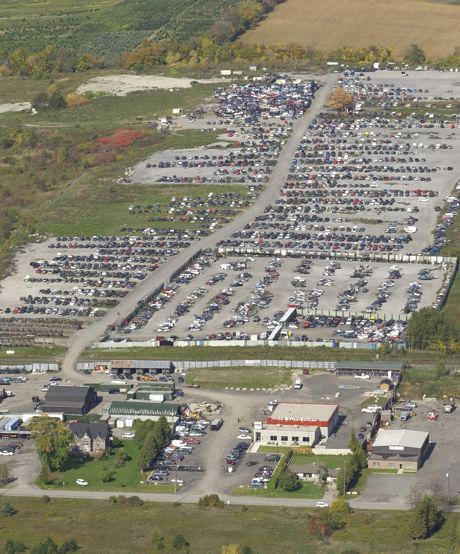 Christmas Hours Friday Dec 21 - Closed At 4:00 PM
Saturday Dec 22 - OPEN
Sunday Dec 23 - Closed
Monday Dec 24 - Closed
Tuesday Dec 25 - Closed
Wednesday Dec 26 - Closed

Monday Dec 31 - Open till 1:00 PM
Tuesday Jan 1 - Closed


Please note that last admission to yard is 1/2 hour before closing
FROM ALL OF US HERE AT PARTS 4 LESS WE WISH YOU AND YOUR FAMILIES A SAFE AND HAPPY HOLIDAY.

BEST WISHES FOR 2019!
We will be CLOSED
Monday Feb 18, 2019
for Family Day

We will be OPEN
Saturday and Sunday Feb 16 & 17


Easter Weekend Hours

We will be CLOSED
Friday April 19, 2019
for Good Friday

We will be OPEN
regular hours
Saturday April 20

We will be CLOSED
Sunday April 21

We will be OPEN
regular hours
Monday April 22


We will be CLOSED
Monday May 20, 2019
for Victoria Day

We will be OPEN
Saturday and Sunday May 18 & 19


We will be CLOSED
Monday July 1, 2019
for Canada Day

We will be OPEN
Saturday June 29th
and Sunday June 30th


We will be CLOSED
Monday August 5, 2019
for the Civic Holiday

We will be OPEN
Saturday August 3rd
and Sunday August 4th


We will be CLOSED
Monday September 2, 2019
for Labour Day

We will be OPEN
Saturday August 31st
and Sunday September 1st


We will be CLOSED
Monday October 14th 2019
for Thanksgiving

We will be OPEN
Saturday October 12th
and Sunday October 13th


WINTER HOURS: Oct 01 - Mar 31
MON

TUE

WED

THU

FRI

SAT

SUN
9:00
to
5:00

9:00
to
5:00

9:00
to
5:00

9:00
to
5:00

9:00
to
5:00

8:00
to
4:00

9:00
to
4:00
SUMMER HOURS: Apr 01 - Sep 30
MON

TUE

WED

THU

FRI

SAT

SUN
9:00
to
5:00

9:00
to
5:00

9:00
to
5:00

9:00
to
6:30

9:00
to
6:30

8:00
to
4:00

9:00
to
4:00
Early Access Available MON - FRI at 7:30 AM through Dom's Auto
Please note that last admission to yard is 1/2 hour before closing